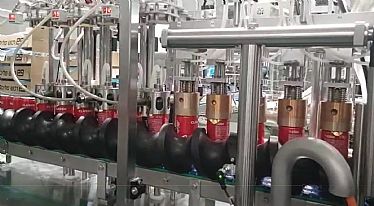 AN AUTOMATIC MACHINE FOR APPLICATION OF A PROTECTIVE COVER ON BEVERAGE CANS
22.02.2021
What is the protective cover for?
Due to the COVID-19 Pandemic the beverage suppliers are looking for the most hygienic products for their customers.
The advantages of this innovation are complete protection of each individually preserved product, from the point of production to the point of consumption by the consumer.
This method can prevent the accumulation of dust, liquids or any other foreign objects on the surface, thus providing clean surface of the cans before opening. 
Pack Line innovation:
An automatic Pack Line system is designed to apply the protective cover onto the can, crimp the cover with possibility to seal the cover to the surface of the can.
The system can be applied as a stand-alone machine or as a part of a cans filling machine.
The capacity of the system: 20-180 cans per minute. 
PXM - DOUBLE INDEX
03/08/2021
Pack Line filling machine Mod.PXM have the appropriate technology to meet the daily challenges in production due to its enormous flexibility !
2 sizes on the machine , changing formats in just 15 minutes, adjusts automatically without the need to change parts manually.
We believe that an excellent technology is necessary to meet the individual request of the customers!